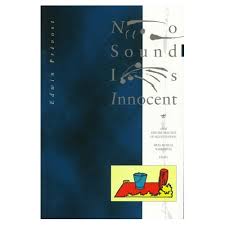 No Sound is Innocent:
AMM and the Practice of Self-Invention:
Meta-musical Narratives: Essays. Copula, Harlow, UK. 1995
The improvising group AMM was born some 30 years ago [1965], at a time of extraordinary creative ferment and transformational social possibility. Though its history has not been completely smooth, it continues today to pursue a unique sonic course, unswayed either by academic orthodoxy or the conformist pressures of the market. In this book, Eddie Prevost, drummer and a founder member, explores the reasons it came to be, the influences and refusals that have shaped its history, and the potential and the failings not only of the meta-music AMM is committed to, but all music everywhere: classical, jazz, folk, pop and the experimental avant-garde. In a unique series of acute and often moving dissections and meditations, directly modelled on AMM's attitudes and practices in performances, Prevost examines the meanings of sound itself, giving them aesthetic, social and political dimension. These, together with an outline of the events of the group's three decades of existence, of alliances and conflicts within the collective, give voice to a radically contrarian but always thoughtful underground strand in present-day music-making, which adherents all over the world, among players and listeners. It will fascinate and perhaps trouble anyone with an interest in modern music's deeper currents.
1995
"The idea of the performer of a written work as technical executor,or as a kind of curator (as Brendel puts it), precludes the possibility of free dialogue. If musical works could be perceived less as marketable or sacred objects, and more as possible views of the world on which to reflect, greater freedom might develop. Eddie Prévost's book, with great skill and imagination, provokes the readers into contemplating such questions."
Piano Journal
"This is an inspiring, modest and (to use a word that Prévost is not ashamed to use) beautiful book. Nothing in it is more beautiful than his own cry of resistance: I am something other than what you tell me I am."
The Wire
"One of the most successful attempts to illuminate the aesthetic, social and political aspects of the modus vivendi of improvised music."
Dissonanz (Swiss)